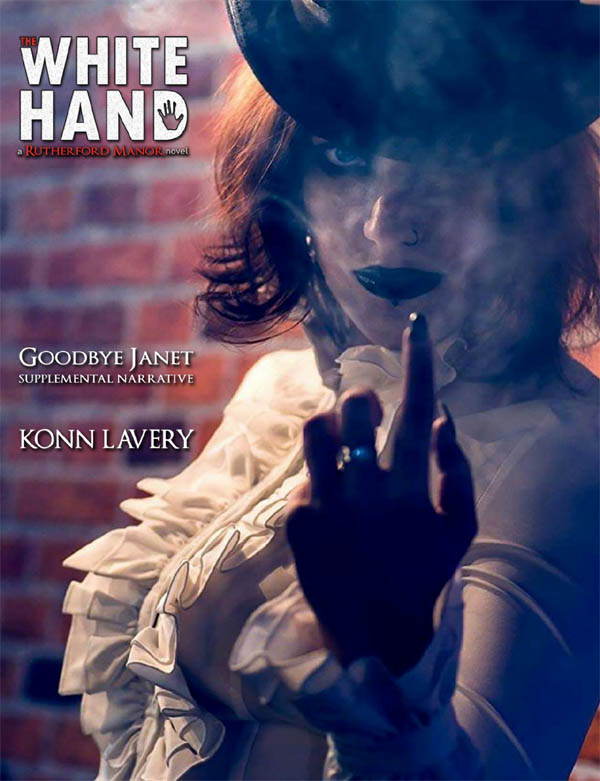 FREE SHORT STORY GIVEAWAY
During these hard times with lock-downs, social distancing, and closures of pretty much everything about our daily lives we have decided that a good, fun, and thrilling distraction is in order. All we ask in that you provide us with your e-mail address by joining our Fan Club with the form below.

Join the Rutherford Manor Fan Club and you will receive:
- A FREE digital copy of the WHITE HAND supplemental narrative, Goodbye Janet. 
---
Sign up for the RM FAN CLUB and Enter to Win!
---
Giveaway Details
We will e-mail you a FREE DIGITAL COPY of GOODBYE JANET in return for your e-mail address when you join our Fan Club.
There is no charge for this download.
This offer is for a limited time only.
We will not sell your information to any 3rd party. You may receive update emails that a regular correspondence with our fan club members updating you on events, products, and other cool Rutherford Manor stuff!

IMPORTANT: If you have trouble seeing the email after you sign up please check your trash, spam, or promotional section of your email account just in case your email filter grabbed the correspondence.
The White Hand


A Rutherford Manor Novel
Based on the award-winning Haunted House and forthcoming television series, The White Hand brings you into a historical thriller combining mobsters, forbidden love, old souls, murder, and betrayal.
Rutherford Manor – a safe haven for some. For others, a home that holds many sinister secrets. Run by the Fleshers and the Savidges, these two families have survived for generations leading up to the present day of 1890. Headmaster Alastor Flesher and his business partner, Spalding Savidge, find themselves in desperate times to provide for their families.
Their needs wrap them into a deal with the Irish mob – The White Hand. The two men willingly work with the gang as resurrectionists, obtaining bodies for anatomists. Alastor and Spalding develop a unique process, gaining access to the most well-preserved bodies. Their product becomes desirable throughout the black market in Illinois.
Despite the handsome pay, Spalding is left in disarray. Alastor's desperation for income runs deeper than he ever knew. His moral compass is shattered due to their snatching methods. Spalding plays with fire, developing something known as love for Irene, the daughter of The White Hand's boss. With a dash of foul play and new allies, Spalding becomes the glue that holds Rutherford Manor together, and he is coming unbound.
Join the Fleshers and the Savidges as they plummet into an era-altering series of events that will change Rutherford Manor forever.
Fire, Pain, & Ruin


A Rutherford Manor Novel
Rutherford Manor has entered a new era. Spalding Savidge and his wife Penny Savidge raise their twin daughters, Lisa and Louise, in hopes of a normal life. All while the Fleshers further their dark interest through secretive new contracts involving the government, ultimately funding Spalding's wishful dreams of a simple life for his family. The past fails to stay behind as Spalding is haunted by a ghost long since forgotten. This leads him to lustful temptations, disregarding everything he stands for and challenging his morals to the core.
Lisa and Louise try to make sense of the abnormalities of their home – Uncle Nox's secret laboratory, Uncle Billy's large body-shaped bags, their mother's headaches, and their father's late work nights. They struggle with adulthood traumas, trying to find their own feet against their violent heritage. Lisa struggles with the hardships of first love. Louise faces a tipping point due to the involvement of a new family in the town of Rowley, the Connors. Mr. Connors is the first to treat Louise with a kinship that she is familiar with from men.
The twins discover otherworldly secrets from the midwives of Rowley. The Savidge girls join them in their ritualistic practices, unaware of the lurking evil that they are about to unleash. Nothing could prepare the midwives or the Savidge twins of the horrors that waited beyond the worldly. Some doors should be kept shut. The Savidge twins learn that despite their growing differences, they must come together for their family, or they risk losing each other forever.